Saturday we had a floor guy come over to check out our downstairs loo. This story isn't nearly as dramatic as
Deborah's
, because basically all the fellow did was pull up a piece of the hideous linoleum and show us what was underneath it. Suddenly, my plans for black and white ceramic tile were halted. The original stuff was still intact, buried under paste and gunk. Frank had a fun weekend locked in there with chemicals, but here are the results:
In medias res: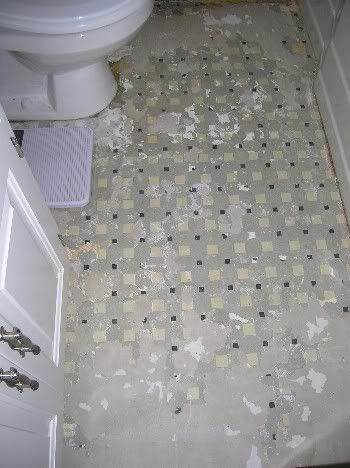 Eh bien, voila!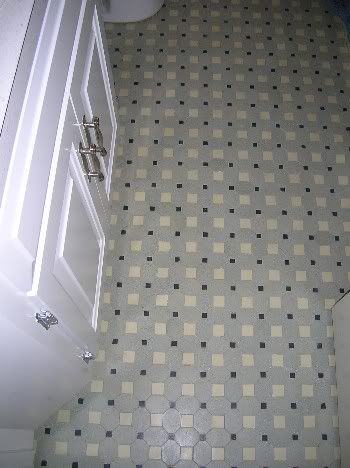 Our casa is a 1939 bungalow and the tile in that bathroom is original, so imagine my delight at being able to uncover this beautiful stuff.
Otherwise things here have been sans drama. I'm just hiding out from the heat, sending my book manuscript to various contests, sending poems to journals, loafing on the couch with a book (which I rarely get to do when I'm not gigantically pregnant), reading submissions for
RHINO
, and wondering when the not-so-wee lad will arrive. You may have noticed that Frank is now on the wordcage staff; that's so he can post pictures when Raymond arrives. It's not a hostile takeover by any means.
What else can you do when it's too hot to go outside?
Photograph the ice in your glass: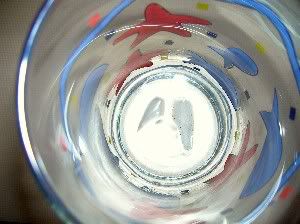 (It's the Honda symbol!)
Make silly photos of your favorite cat: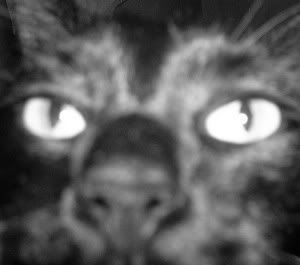 I suppose I could go enjoy my new floor, too. Frank said we should smash up the formica countertops in the kitchen and maybe there will be granite or something else cool underneath.