I am alive and blogging, albeit now with a wee lad sitting in his papasan chair next to me, sleeping like a little lamb (when not screaming). I am feeling light as a feather and keep forgetting that just because I no
longer have a huge boy in my belly does not mean that I can lift boxes over my head. Slightly less jolly after kicking the narcotic painkillers, but it's for the best.
We had perfect weather today for my first day of a two-month gig as a temporary stay at home mom of two. Gabi and I took our respective babies and strollers out for a walk. It felt really good and there was sunshine and Ray didn't poop his drawers or anything. Tonight I'm making my debut back into society, attending a book club meeting.
I cried for an entire weekend months back when I found out Ray was a boy. I guess it just defied my sick daydream of two daughters with matching bob haircuts, wearing seersucker dresses and the four of us strolling around the Hamptons with me in a straw hat or something like that. People comforted me with things such as
Boys are so much easier
and
But it will be so nice for your husband
, neither of which made me feel any better. But I'm realizing it just might be different--and okay--and maybe even better--with a boy kiddo this time around. And I'm not just saying that because he looks just like me.
Speaking of fellas, here are a couple of pictures in honor of Father's Day
Frank proudly holding his son (it must be so nice for him, eh?)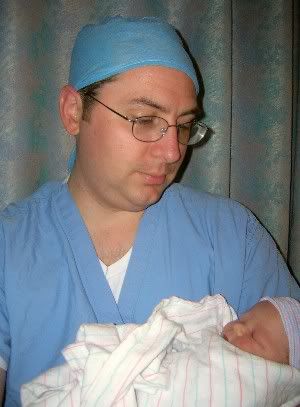 My dad with Gabi and Ray