Greetings from Akron, Ohio! We made it here unscathed, and somewhere amongst the boxes there are three people and four cats in this house. Yes, one day after tripling our square footage we felt compelled to get a kitten for Gabi, a seven week old mackerel tabby that she has named Henry (official name Henrietta James). It's amazing how much entertainment that tiny critter provides.
On the left you'll see evidence of the disturbing revelation I made yesterday. There is a Buckeye tree in our front yard. Noooo! Okay, I love the tree, but the buckeye thing didn't sink in until I found one of the nuts in the grass. Should I get a wolverine to prowl the premises and keep the Ohio State vibes at bay?
Speaking of revelations, check out these fantastic hardwood floors that had been under hideous shag carpet for 66 years. I've been spending a lot of time on my hands and knees, scrubbing the life back into these beauties.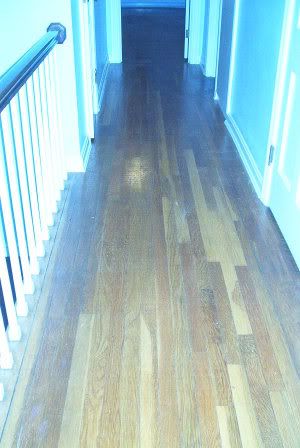 Went to my new office today and was totally floored by seeing Dr. Mary Biddinger on the door. Of course, my university ID picture makes me look like I'm 12, but some day I'll get a good laugh out of that.
Easing back into the blog world. Won't have cable until Friday, but dsl was on the top of our list. Hello to all y'all that I've been missing!