Yeah, Northeast Ohio is so wild for poetry that I had to be totally incognito when riding the
Cuyahoga Valley Scenic Railroad
this weekend. It is so hard living a normal life when total strangers are always accosting you with copies of journals you've appeared in, or when the paparazzi hassles you about the big news you aren't revealing until you make some withdrawals (it is this level of professionalism that makes you so popular, and yet reviled by many nonbelievers).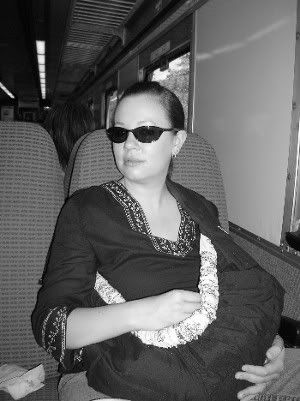 I am getting rather weary of the tent city set up in our front yard, replete with journalists and hecklers who are all, "Give it up already, Biddinger!" and "I'm going to pick through your trash with a rat tail comb" and "What are your thoughts on breastfeeding in public, and
do you find this scandalous?"
.
Perhaps someday the wild American populus will leave poetry to the freaks and adolescents and start fixating on something worthwhile. In the meantime, I will be covering my children in shrouds and carrying a golf umbrella everywhere I go.