Meet the editorial staff.
Some may imagine the litmag editing process to involve cork boards, dusty bookshelves, and lots of tweed. However, in today's fast-paced literary world, editors have taken to working in bed and insulating themselves with multiple cats when reading submissions. A lap desk is also
de rigeur
. You may want to put kiddie rails on the bed, however, for those days when submissions reach the ceiling, and/or cats are bil-wau-ing and stampeding. Just like a herd of
RHINOs
. How fitting!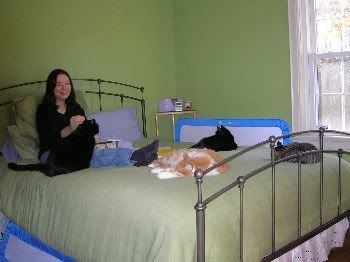 Can anyone correctly identify
the Shoob
?