No, the subject of this post has nothing to do with my anxiety over Sandra Day O'Connor's impending departure. It's my own dorky sheepishness over a strange guilty pleasure--catching a clandestine kaboom or two out the back window. I live in Chicago. People shoot off all kinds of shit during June and July. I would never set off fireworks myself, because I'm afraid of fire. I never attend fireworks shows...half because every year I forget how much I love them, but also hating crowds and standing around waiting. I'd rather be surprised and scrambling from window to window.
Growing up my family was never rah-rah patriotic whatsoever. We were more likely to be out seeing a foreign film or documentary, and eating some kind of non-American cuisine, instead of eating hot dogs and watching tv and playing with matches. My daughter is destined to grow up similarly. Many years of graduate school await her.
Since I'm talking about my alley, here are some pictures.
my alley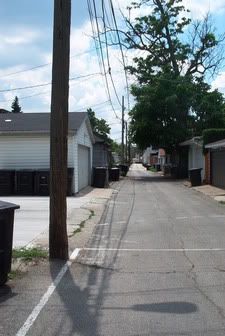 a weed grows on the threshold of my garage! look at those suckas!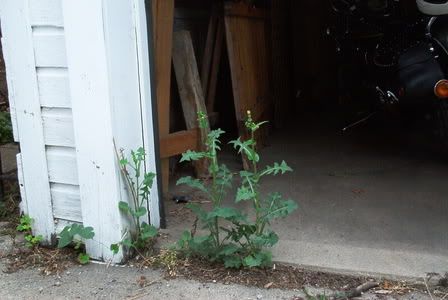 like two lost souls, finally together! (don't know what's up with the mysterious third character lurking in the shadows)
hi there
Did you get your fireworks fix this weekend? In plain view, or on the downlow?